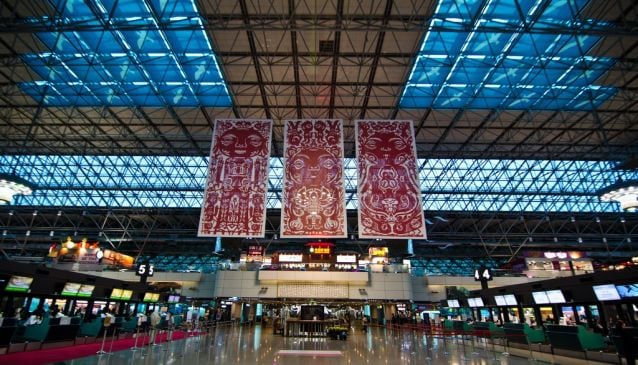 Taipei Layover
Editorial
Efficient public transport, Wi-Fi and cheap beer make Taipei a lovely layover destination
The term "layover" doesn't necessarily bring the best associations to mind. Pause a moment before the thought of public naps and overpriced airport food elicit a grimace. Check out this survival guide for a layover in Taipei.
Considering that Taipei is the city of convenience, there are certainly worse places to be stuck for a short period. With efficient public transport, the magic of working Wi-Fi, and cheap beer (which can be lawfully imbibed in public) Taipei ranks as one of the loveliest cities for a layover.
WITHDRAW LOCAL CURRENCY
First let's talk about funds. You can make transit tolerable without cutting too much into the finances for your next adventure. Head to one of the money change counters in the airport. On a scale of moderate to lush, you'll need +/-1,500NTD to 3,000NTD for a days' layover – sightseeing and eating included. Though there are certainly ways to do it for less if you're frugal. (Bear in mind that 1USD = 31.9 TWD at the time of publishing this article). Finding an ATM in Taipei is very easy and more established (but less local) establishments will accept credit cards if needed.
HOOK UP WiFi
Next, hook up your WiFi to manage emails, check in at the office or Skype home. Taoyuan Airport has free WiFi throughout and there is free WiFi available at most places throughout Taipei city. To sign up for a Taipei Free WiFi account, all you need is a foreign number that can receive text messages. Still, the signal can be unreliable so if you're tech-dependent, we'd suggest using your passport and one other form of ID to get a Taiwan mobile account. You can purchase a day's free WiFi (using 3G from your smart phone) at +/-150NTD.
TRIM THE FAT
There is a leave-your-luggage service in Taoyuan Airport, located in the departure hall. The fee is +/- 100NTD for luggage under 20kgs. Baggage deposit/collection is open between 6AM and 11PM. Make sure you'll be heading back to collect all your luggage before the counter closes!
TOUR TAIPEI FOR FREE
Now for the activities. There is a car rental service at the airport but, trust us, the last thing you want to be dealing with during a layover is finding the mythical parking spaces that supposedly exist in Taipei city. With limited time at hand, the best (and most affordable) option is one of the free (hurrah!) half-day tours provided by the Taipei tourism board.
To be eligible for one of these tours you'll need to:
Register at the Tourist Service Centre in the Airport Arrival Lobby
Prove that you have a layover in Taipei, lasting between 7 and 24 hours
Have a valid passport and fill out the immigration entry/exit form provided
These half-day tours have two cycles: a morning tour departing at 8AM and an afternoon tour departing at 1PM. These tours are friendly and informative, offering guided tours in Chinese, Japanese and English. It might be nicer to have a little more time to enjoy the sites. But for those enduring a layover, it is a relief to have someone else take the administrative reigns for the duration of the tour.
The tour offers a good selection of Taipei's tourist attractions, here are a few tips from us:
1. Take time to admire the sky-high national treasure that is Taipei 101. To enjoy a view of the city, without paying lots for entrance to the observatory, head to Starbucks on the 35th floor and take in the vista, at the cost of a coffee.
2. You will get to see some remarkable example of traditional Taiwanese temples. Be sure to try a few street snacks for stalls in the surrounding areas.
3. For Chang Kai-Shiek Memorial Hall: check out the museum on the lower levels, take the ultimate Taiwan tourist photos and observe the changing of the guards (on the fourth floor, every hour, on the hour).
4. National Revolutionary Martyr's Shrine: a bit of culture and traditional architecture. This shrine was constructed to commemorate the 390,000 soldiers who gave their lives in the service of their country during the War of Resistance against Japan and the civil war between the Chinese Republican and communist parties.
AFTER THE TOUR
If you're aching for a little more adventure, then skip the bus back to the airport and stay in Taipei City. Two suggestions to satisfy those hankering for more:
City slickers, head to Xinyi district. If you just want to enjoy a delicious meal, a swanky bar and some nightlife, this is certainly the place to do it. English-friendly and all within walking distance of the Taipei 101. You could pretty much ask a Taxi to head to the 101 building, otherwise take the MRT to the Taipei 101 MRT station on Taipei Metro's red line, or Taipei City Hall MRT station on Taipei Metro's blue line.
Love to kick it local? Go to Shilin Night Market. Ask taxis to head to Shilin Night Market (Chinese: 士林夜市; pinyin: Shìlín Yèshì) or take the MRT to Jiantan MRT station on the Taipei Metro Red line and follow signs from there. An evening in Shilin is a great immersion in Taipei's famed night market culture. Rub shoulders with Taipei residents, buy souvenirs, shop and snack on street eats.
BACK TO THE AIRPORT
There are a number of ways to travel back to Taoyuan Airport from Taipei City. Either take a Taxi directly, or head to Taipei Main Station where you can catch a Taipei bus or the HSR.
REST AND RELAXATION
Once you're back in the airport it's time to charge phones, drink coffee and nap before your next venture. The airport transit lounge, like most things in the airport, is open between 6AM and 11PM. In these lounges you can enjoy a beverage, use WiFi, watch TV, shower or read a newspaper (at a fee). The lounge in Terminal 1 is located on the fourth floor, while the more premium lounge is located at Terminal 2.