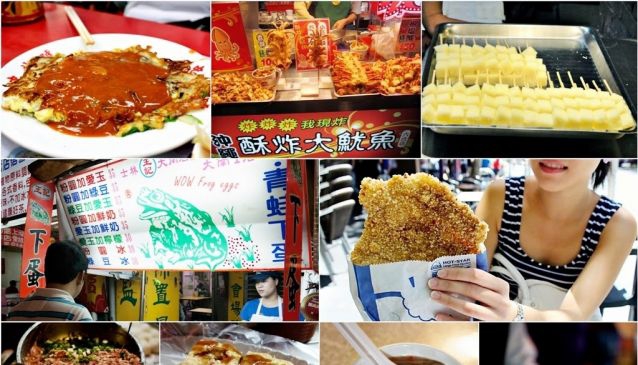 Cheap Late Night Eats in Taipei
Editorial
Food is a 24/7/365 kind of deal in the Taiwanese capital. The denizens of Taipei take food seriously
The denizens of Taipei take food seriously. Initiate a conversation with a Taipeiren about even the simplest of the street fare and chances are you'll enter into a dialog that could span the better part of an hour, complete with demonstrative hand gestures, spiteful clicking of the tongue, and sighs of pure gastronomic pleasure at the mere memory of some of the city's finest dishes. So it's not surprising that food is a 24/7/365 kind of
deal
in the Taiwanese capital. If you're a night owl, there's no shortage of places to satiate your late night munchies. Here are a few places that can help you put a stop to that midnight stomach rumble.
Section 2, Fuxing South Road
Take a quick walk north from the Technology Building MRT station and a crossing to the west side of the street at the first crosswalk and you'll you encounter three staples of late night snack aficionados. The first restaurant you'll come across is Xiao Lizi Rice Porridge, so named for its signature dish. But there's much more than just steaming hot bowls of thick, sticky rice-based sweet potato porridge. In fact, there's a whole buffet, with half of it being vegetarian and the rest catering to the carnivore crowd. This is helpful for tourists who don't speak Mandarin, or simply don't know the sometimes verbose names of the dishes (Taiwanese love to get creative with food names). You can simply point to what you want and the staff working behind the buffet counter will dish it out for you.
If you're feeling brave, try some stinky tofu (cho dofu), fermented soybean curd with a, shall we say, strong odor. Taiwanese seem to take no small amount of pleasure in
watching
foreigners try it for the first time, and there's perhaps no better way to ingratiate yourselves to a crowd of curious local onlookers than to down some cho dofu with a brave face. If you like spicy food, try some kung pao chicken, pigs ears, and spicy egg plant. And of course every meal comes with an unlimited supply of porridge. This is a fan favorite in Taiwan for largely sentimental reasons. In decades past, when the Taiwanese economy wasn't the Asian tiger it is today, many families had to make what little rice they could afford go a long way. So, water was added to make porridge, and far cheaper sweet potatoes were thrown in as well.
Xiao Lizi is open nightly from 5 p.m. until 6 a.m. the following morning, and is located just a few doors down from two more local favorites, No Name Rice Porridge, and Yi Lui Rice Porridge, which serve variations on the same theme. Four dishes along with the all-you-can-eat rice porridge costs about NT$300, or ten bucks U.S.
World Soy Milk King
Close to the Dingxi MRT Station in Yonghe, New Taipei City, World Soy Milk King more than lives up to it's royal moniker. But before we get too far ahead of ourselves, the directions. After getting off the metro, head for exit two, and turn left once you're outside. Walk down Yonghe Road for about five minutes, and cross the street when you hit Wen Hua Road. Turn left again, and keep an eye out for the busy restaurant with racks of fresh made baozi, or steamed buns, cooling outside, and white tabletops, yellow chairs, and an open kitchen inside.
Now, what should you order when you get there? Soy milk, or duo jian, of course. It comes in both sweet and salty varieties, and it's well worth trying one of each to experience the contrasting flavors. Hot or cold, Yonghe is the place in the greater Taipei area to enjoy this storied beverage, and World Soy Milk King is considered its number one purveyor. The places has been in business for decades, and in that time famous faces like Jackie Chan and Chow Yun Fat have stopped by. If you need proof just check out the pictures on the wall. former President Chiang Ching-Kuo and his mother, First Lady Soong Mei-Ling, also stopped by back in the day. The First Lady was so taken with the
shop's
soy milk she quoted eight words from an ancient Chinese poem which, loosely translated, mean "Elixir made from beautiful jade, sweet as milk." The Chinese characters that comprise this quote still adorn the restaurant wall to this day.
The restaurant is separated into takeaway and sit-down areas, and is famous for its dan bien, which looks similar to a rolled up crepe, with turnip, and its xiao long bao, or steamed dumplings. . You can also try a yuo tiao, or oil stick, which is basically deep friend flower, and perhaps a xiao bing, a kind of crunchy, flaky pastry, with either beef or sour cabbage in the middle. There is no English menu, but fear not, there are replicas of the dishes the restaurant is best known for in a glass display case in front of the
shop
you can point to if all else fails. What's more, you never have to worry about showing up to find World Soy Milk King closed. It's open 24 hours a day, seven days a week, 365 days a year, and even has 24-hour delivery to all of Taipei City. Two dishes and two drinks will set you back all of NT$110 or so, which is just over US$3.
Ling Dong Fang Beef Noodles
This humble eatery is located between the Zhongxiao Fuxing (Brown and Blue Line) and Nanjing Fuxing (Green and Brown Line) MRT stops. Go to Zhongxiao Fuxing and walk north along Fuxing South Road toward Bade Road. Turn left when you get there, and head west along the left-hand side of the street for a few minutes. When you hit the huge vats of boiling beef stock sending their mouthwatering aroma out into the street, you've arrived. As the name of the establishment suggests, the beef noodles are not to be missed. In a city that in the past has had an entire festival dedicated only to beef noodles, considered the dish of Taipei City, it takes a lot to gain recognition as one of the town's best in this regard, and Ling Dong Fang has managed to do just that.
Now that your beef noodles are on the way, order a few side dishes for the full experience. Try some hua gan, or do gan, which are forms of tofu, or some cucumbers in sesame oil with garlic as you wile away those scant few minutes between ordering and the arrival of your aromatic bowl of beef noodles, which come large or small sizes, depending on your appetite. The tender slices of fatty beef melt in your mouth, and the broth will have you begging for the secret recipe. There's nothing fancy about this place, it's simple and old school—a real taste of Taipei when your midnight craving comes calling.