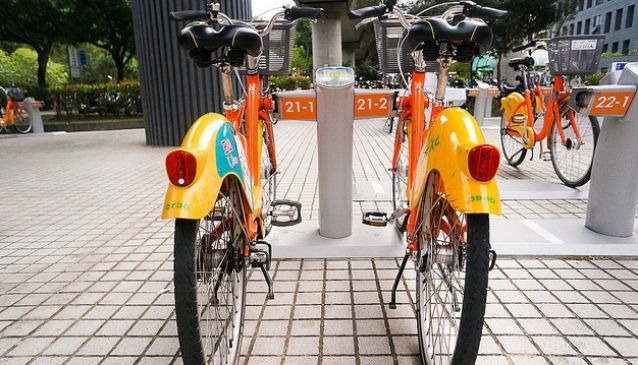 Cycling in Taipei
Family Fun
This really is one of the best places on Earth for cycling!
Cycling In Taipei
Cycling is a sport and pastime on the rise in Taipei and around Taiwan. The Taipei City government rolled out a bike share program, YouBike, in the downtown core in 2009, and gradually expanded it throughout the metropolis. Now, there are over 160 stations where people can rent the bright orange and yellow bicycles for NT$10 per 30 minutes within the first four hours, NT$20 per 30 minutes between four and eight hours, and NT$40 per hour after eight hours of use. It's a fast, easy, and environmentally friendly way to see the city.
That's all well and good for the average tourist putting around town. But what about the real cycling enthusiasts? Taiwan has seen an increase in cycling events in recent years, such as the Formosa 900, a tour circling the island over nine days during the Taiwan Cycling Festival in November of each year. The fest also sees the annual King of the Mountain race at Hehuan Mountain, a race from sea level to one of the highest points in Taiwan at 3,275 meters in elevation. In Taipei City, there are paths, trails and parks to suit whichever form of cycling appeals to you. Here are some of the top spots for cycling in the capital.
Road Cycling
Road cycling is easily the most popular form of the sport in Taiwan, with many top road bike brands, the most prominent being Giant, calling the greater Taichung and Changua regions home. In Taipei City, if you're looking to stay within the city limits, your best bet for a nice ride is to head for a stretch of the over 100 kilometers worth of riverside cycling paths running alongside the Danshui, Xindian, Keelung, and Jingmei Rivers.
Maps of the cycling paths are available for free at MRT stations throughout Taipei. Along the trails themselves are bicycle rental kiosks where you can pick up a bike if you don't have your own. Prices vary, depending on the quality of the bike you want to rent, with the best bikes going for around NT$350 per day, while bikes at the lower end of the scale go for about NT$15 per hour. These kiosks may require you to leave a deposit of up to NT$2,000, and might ask you to leave behind a form of I.D. as well. One of the most popular routes is to follow the Danshui River all the way out to the boardwalk near the Danshui MRT station in New Taipei City, where the river is lined with food stalls, restaurants, souvenir shops and games.
The riverside paths can get extremely crowded on weekends. So, if you're looking to break away from the pack, head to Yangmingshan National Park, where the mountain peaks are criss-crossed with roads suitable for riding. The park covers a huge expanse, and depending on how far you want to go, a ride could take you past bubbling natural hot springs, scenic peaks, and even to views of the sea. To get to Yangmingshan, riders usually take the red line, or Tamsui Line, of the MRT, and get off at Shilin Station, or any station between there and Beitou. From there, you just follow the roads up into the surrounding hills. Ascents vary, and can be as high as 1,500 meters, so be prepared for some fairly challenging climbs.
Downhill/Cross Country Biking
Downhill Mountain Biking is still a relatively new sport in Taiwan. Local enthusiasts estimate there are somewhere around 100 regular riders scattered throughout the country in 2014. One of the largest groups of riders is Northern Taiwan Off-Road (北台灣OFF-ROAD團). If you're in town and looking to find a good mountain trail, look them up on Facebook and shoot them a message. They're a friendly bunch and are happy to ride with fellow speed junkies of all skill levels, even beginners.
The men and women of Northern Taiwan Off-Road can often be found riding at Danfeng Mountain (丹鳳山) in Taipei's Beitou District, near Zhaojing Temple, or Lovers Temple, on Chung Yang 7th Road. The trail there is quite new, only a few months old, exposed when a brush fire took the vegetation off a small patch of the mountain. It's also a little on the short side. A trip down at speed takes no longer than a couple of minutes. But the scenery is amazing, with views of the Guandu Plain and the Danshui River mouth in the distance. For downhill mountain biking fans who are new in town, this should be your first stop.
As for other places to ride downhill, there is Zhongpushan (中埔山) in the city's Muzha District. And in Xinbeitou, there is a trail affectionately known as The Speed Trap. This trail is much longer than that on Danfeng Mountain, with a trip from top to bottom taking around 15 minutes. And whereas Mount Danfeng might be suitable for beginners, the Speed Trap is more for riders with some experience. If you're interested in checking it out, contact Sean's Bike in Tienmu (21 Zhongzheng Road Section 1, phone 2835-2101). Proprietor Sean Huang and a group centered around his store ride the trail regularly on weekends.
The Speed Trap actually runs through a private bamboo farm, but riders have reached an agreement with the landowners, so be sure to be respectful of your surroundings. As downhill biking is something of a new phenomenon in Taiwan, be sure to be mindful of hikers on the trails as well. Conflicts between downhill riders and hikers have arisen before, and downhill enthusiasts are looking to foster a good relationship with everyone out on the trails, whether they're on two fat tires or just two well-worn feet.
BMX
If BMX is your thing, Taipei has you covered on that front, too. In the Nangang District, there is the Taipei City Extreme Sports Training Center, a short distance away from exit 2 of the Nangang MRT station. The facility has a full street course set up for skateboarding, roller blading, and BMX, complete with vert ramps, half-pipes, tabletops, rails, and more. The address is No. 382, Zhongxiao East Road Section 7, Nangang District, Taipei City (台北市南港區忠孝東路7段382號).
Neihu Sports Park also has a similar, though smaller course, located on top of the Water Treatment Plant. It can be somewhat difficult to find, but if you see the Neihu Costco branch, you're in the right place, as it's on the same street to the north, near Tiding Boulevard. The address is No. 2, Jiuzong Road Section 2, Neihu District, Taipei City (臺北市內湖區舊宗路2段2號).
Half-Day 【Busting Times】 Show Taiwan Cycling Tours
Enjoy the leisure living of Taipei people, marvel at the lovely riverbank scenery, discover the rich historic side of the city, experience Taipei Flora EXPO Park, and wander around Dadaocheng and Dihua St.
Tour also includes flat bar bike & helmet, professional local tour guides, saddle bag, insider info & recommendations, a bottle of water, insurance, front & rear light.
Details and Booking:
https://www.kkday.com/en/product/1974?cid=2007
Half-Day 【City Greenway】 Show Taiwan Cycling Tour
With this tour, we will cover Chiang Kai-Shek Memorial square, the bustling shopping area of Ximending, forest in the middle of Taipei metropolis, visiting National Taiwan University, crossing the Taipei riverside bike path, and the green tunnel : Ren-ai road.
Tour also includes flat bar bike & helmet, professional local tour guides, saddle bag, insider info & recommendations, a bottle of water, insurance, front & rear light.
Details and Booking:
BMW Taipei City Tour
"B" is for Biking,"M" is for Metro, and "W" is for Walking.
This BMW City Tour will take us to notable places such as Yongkang Street, one of Taipei's top food havens and the Songshan Cultural and Creative Park, dubbed the"Creative Hub" of Taipei,
as well as a spectacular view of Taipei 101 with the help of our knowledgeable guides
Details and Booking:
Taipei Night Bike Tour
Explore Taipei with a local guide who will show you the real city which is not covered by any guide book. A special evening journey is arranged for you to have a fun introduction to the historical and famous sites while you savour the night ambiance. While you enjoy cycling, your tour guided will cover the most interesting stories of the spots and will uncover their best-kept secrets that were only known to locals.
Come join this tour where you can enjoy intriguing stories, lovely night-view and good company.
Details and Booking: