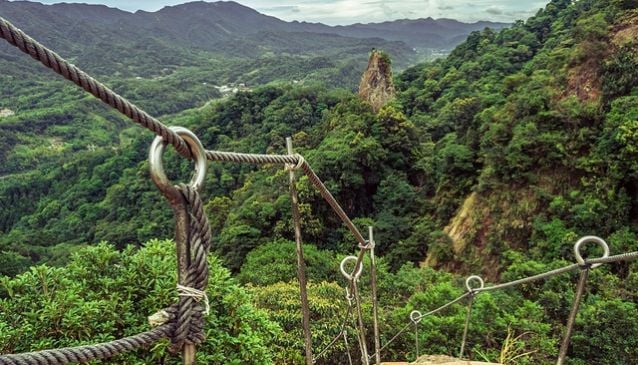 Hiking in Taiwan
Mini Break
Taiwan is an amazing hiking country!
Despite its size, Taiwan (formerly known as "Formosa") offers an incredibly diverse range of terrains for eager travellers to explore. Thanks to its unique location, being cut by the Tropic of Cancer in half, you can experience both Tropics and Subtropics in Taiwan. The island also lies on one of the most complex and active tectonic collision zones on the planet, which translates to an elevated propensity for earthquakes.
As if that wasn't enough, Formosa is also affected by some of the greatest rainstorms like Typhoon Morakot in 2009 that has brought down an equivalent of about 3 years worth of rainfall in the UK over the course of a single weekend.
All that being said, Taiwan truly is an excellent hiking destination.
It may be commonly known for its success in the high-tech industry and its uneasy relationship with China, but few realize that about 31% of the island is made up of over 1000 meters high mountains. Moreover, there are hot sub-tropical valleys lush with endemic fauna and flora, jungles and even gently rolling plains.
The 100 peaks
There are more than 100 mountain peaks of over 3000m (above sea level) in high called ?? (Bai Yuè) in Taiwan. The tallest of these is ?? (
Yùshan
) or Jade Mountain that is just shy of 4000m. If you're sharpening your claws to take them on, be advised that permits are necessary to climb most of them. You often need to apply for it in advance, especially for the more difficult ones. On the other hand, they are some of the 100 peaks that are a mere hour walk up from a road and are quite easy to tackle.
Yushan (Jade Mountain)
Yushan/Jade Mountain
is not only the highest mountain of Taiwan, but of all North-eastern Asia. In addition to its remarkable 3952m (12,966 ft.) it is also one of the top 50 most prominent peaks in the world meaning that on clear days it offers spectacular views to behold.
In order to summit Yushan, you will have to obtain the permit from the Day 1
Your permit will be checked once you pass the police station at the gate. You can also drop it in the deposit box if no one is on duty.
You can enjoy a beautiful sunset view from the West Peak.
If you want to reach the peak by sunrise or perhaps want to see the starts, prepare to start at about 3am. If you decide to do this, be extra careful as hiking in the dark combined with thin air and a narrow trail can be very dangerous.
Yangmingshan
The
Yangmingshan National Park
is the closest national park to Taipei (about 30 min by car), located between Taipei City and New Taipei City. In total, there are 8 national parks in Taiwan. The Yangmingshan National Park reaches into Taipei's Beitou and Shilin Districts as well as New Taipei's Wanli, Jinshan and Sanzhi Districts.
There is an enormous variety of activities, hikes and things to see in the Park. It features hot springs, sulphur deposits, hiking trails, waterfalls, Taiwan's tallest inactive volcano otherwise known as the Seven Star Mountain, and it is also famous for its cherry blossoms. With this much to see and experience it is almost impossible to calculate the number of hikes you could take.
There are 3 ecological protection areas with their unique features in the Yangmingshan National Park:
1)
鹿角坑 (Lù Jiǎo Kēng) – ancient trail with a huge waterfall at the end of it
2)
夢幻湖 (Mèng Huàn Hú) – this is a shallow lake/pond laying at the foot of Seven Star Mountain
3)
磺嘴山 (Huáng Zuǐ Shān) – this is what used to be a volcano and its crater can still be seen
Although there is no one way to explore the Yangmingshan National Park, here are some of our recommendations.
Seven Star Mountain 七星山 (Qī Xīng Shān)
The Seven Star Mountain holds a prominent place among the Park's attractions as it is the highest peak of the
Yangmingshan National Park
. Unlike other mountain tops, the Qi Xing Shan is almost completely devoid of trees. This fact has its advantages and disadvantages. You get a fantastic 360° but you'll also be exposed to the elements.
Huangzuishan 磺嘴山 (Huáng Zuǐ Shān)
The whole of Yangmingshan is volcanic in nature and Huangzuishan offers the possibility to see one of the old volcanic craters. As one of the ecological protection areas, you will need a special permit in order to enter, for which you must apply at least 7 days in advance (the earlier you apply the better chances you have). Thanks to such restrictions the area feels remote and serene. After spending some time in Taipei you may appreciate the calm and quite scenery here.
The Ba Yan Wild Hot Springs 八煙野溪溫泉 (Qīxīng Shān Bā Yān Yě Xī Wēnquán)
In Taiwan, the vast majority of hot springs have been commercialized meaning it'll cost you if you want to go for a soak. One of the few exceptions are these wild hot springs. They are not exactly easy to get to, but it's not impossible either.
You can take a car, scooter or hop on a bus No. 1717 from Taipei Main Station exit M8 to the Bayan Hot Springs Resort.
Once you arrive, you'll see a small car park. Directly in front and down there should be a dirt path with a big red sign that marks the beginning of the trail. The sign warns you not to enter and that if you are caught the fine will be 15000NTD. It is your choice now. You can use the amount of other visitors to assess how strongly this is enforced.
If you decide to ignore the warning, follow the trail alongside a river with beautiful orange stones
for about 1km. The path will then cross a small stream, which it will follow for another 250m and voilà! Get ready for sulphur smelling steaming hot springs.
Yangmingshan National Park and Hot Spring Tour
Yangmingshan National Park is located just to the north of Taipei, stops will be made at volcano site and Yangming Park. The tour will also cover Beitou area where you can experience one of the best hot spring bath in Taiwan to relax as well as refresh.
Details and Booking: