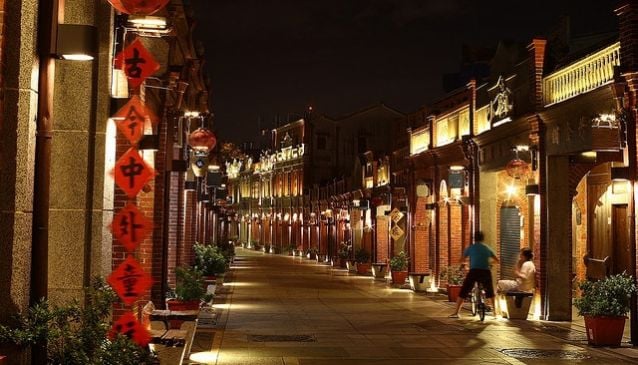 Yingge
Arts & Culture
200-years of ceramic history just outside of Taipei
Yingge is an ideal day trip outside of the bustling city of Taipei. Getting to Yingge is a breeze. From Taipei Main Station you can hop onto a local train, which runs at least once every hour to make the 30-minute journey. It is not typically necessary to book in advance, but always a good idea to check the train schedule for exact departure times (http://twtraffic.tra.gov.tw/twrail/English/e_index.aspx). From the Yingge train station it is only a ten-minute walk to Wunhua Road also known as the 'old street'. This palm tree lined street is the heart of the ceramic sales district and begins to tell the 200-year-old history of Yingge.
The small shops sell a wide range of ceramics, with the majority being locally made. Whether you are looking for one special piece to decorate the curio cabinet or table service for 20, all of your ceramic needs can be met. This is part of the reason Yingge has become so special as it may be the only place in the world where all five major types of ceramics are still produced in one location; ceramic kitchenware, architectural products, sanitary ceramics, artisan pieces, and industrial use ceramics. The ceramic pricing can vary as widely as the available products. The most popular purchases are among the daily use products; the beautiful glazed earthenware pots, the textured stoneware dishes, and tea sets provide endless options. Artisan pieces can definitely be substantially more expensive. These pieces often represent the folklore of Taiwan. Decorative vases, animal figurines and Buddhist idols are readily available in the shops as well. Although much more difficult to pack up in a suitcase, a favorite is always the lovely stoneware basins, which are displayed as tranquil water features for your home garden.
After a few hours of shopping you are sure to have found enough inspiration to try making your own ceramic treasure. There are numerous storefronts throughout the old street that offer hands on experiences. Choosing the right place could be your biggest challenge though! If you are not familiar with pottery making at all and need full English services with step-by-step instructions then it would be best to head over to the Yingge Ceramics Museum (200 Wunhua Rd, 文化路200號). They have instructional placards to get you through the process and plenty of staff available for extra attention. The museum studio will also kiln fire your masterpiece and assist with shipping it back to your hotel or home. Feeling more adventurous then definitely try the small studios off of Wunhua Road. One popular spot to check out is The Shu's Pottery studio (http://www.shuandws.com), throwing your own pottery usually starts around 200NT, they will also fire your ceramic creation and help with shipping if you can not return a few days later to pick it up.
Besides the Museum there are also great studios dedicated to young potters. The kids will have a great time at places like Pottery Angel, outfitted with mini pottery wheels and basic instructions; they will love getting their little hands dirty. If the clay molding is too challenging then one can also take part in mosaic tile plastering. Small ceramic vases or picture frames are readily available for decoration in several of the hands on ceramic studios.
If you did not already get a tour of the Yingge Ceramics Museum ( http://www.ceramics.ntpc.gov.tw/en-us/Home.ycm ), then it's worth a browse especially for the ceramic connoisseurs and the fact that there is currently no entrance fee being charged. The permanent exhibit explains the history of ceramics, which on all accounts can be surprisingly entertaining. Then head upstairs for the artist exhibitions, these rotate every couple of months and offer everything from literal interpretations to abstract representations of ceramics. A special highlight of the museum, especially for the kids, is the outdoor Ceramics Park; exit the rear door on the main floor of the museum.
There are plenty of areas to take a rest and enjoy the public art installations and even a water play area designated for hot summer days. Also be sure to walk to the end of the park where numerous old kilns can be viewed. The museum opens everyday at 9:30am to 5:00pm, and stays open until 6:00pm on the weekends. Also note the museum is closed the first Monday of every month so plan your trip accordingly.If you find yourself lucky to be visiting Yingge in the month of October, this is the time for the annual ceramics festival. Enhanced demonstrations, exhibits, and workshops will be available to further enrich your understanding of the role and art of ceramics.
Perhaps after all of this ceramics are still not your thing, well then you are in luck! Yingge has some great hikes and historical sites to see along the way. In total there are 18 hiking trails to choose from and most are easily accessible from the train station. The most popular trails include the Yingge Stone Trail and the Bilong Trail; both are considered easy hikes, perfect for all experience levels, and very well maintained. The Yingge Stone Trail leads you to Yingge Rock, which holds the origin of the town's name. While the story has many variations one version is that a Ming Dynasty General shot down a giant bird that was supposedly harassing the local people and turned the bird into stone, thus becoming the scenic spot today. This trail is a short walk from the train station and there is plenty of signage to lead you there, from the trailhead its about 30 minutes to the rock.
The Bilong Trail leads you to the ornamental Bilong Temple. This temple enshrines a magical green stone in the shape of a turtle and is said to regularly perform miracles. The temple grounds offer some of the best viewpoints looking down onto Yingge. As with any hike be sure to bring plenty of water and some snacks, as there are no vendors along the Yingge trails.
Yingge should definitely not be overlooked as a great day trip! Easily accessed from downtown Taipei and of course a bit of something to offer everyone: culture, shopping, and outdoor activities.