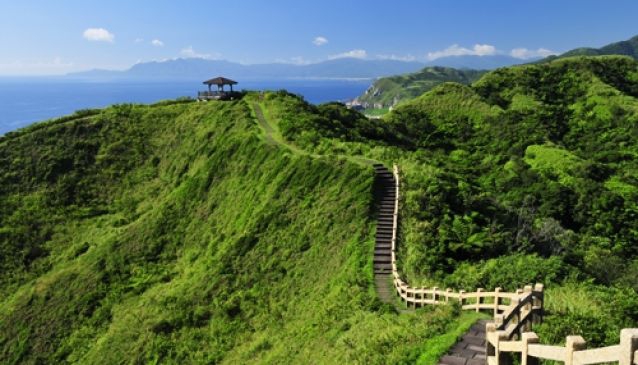 A Northern Expedition
Mini Break
Take your time to enjoy that ocean view!
A Northern Expedition
Taking in sleepy fishing villages, emerald algal reefs and even a queen's head hewn by Mother Nature from stone, the coastal road that winds its way around Taiwan's northern tip is packed with surprises.
While southern Taiwan is known for its pristine sandy beaches and the eastern coast is marked by jagged mountains than seem to jut straight out from the sea, the north coast boasts attractions ranging from world-famous geological oddities to one of the world's most eclectic art museums.
North of Taipei's historic port of Danshui, itself a busy tourist destination, lies the sleepy seaside town of Sanzhi, the first port of call on any tour of the north coast. Once known only for its bizarre and colorful UFO-shaped fiberglass houses – a doomed and recently demolished housing project – Sanzhi has reinvented itself as a pleasant seaside getaway with the appearance of dozens of Mediterranean-style cafes overlooking the crashing waves. Here can be found remnants of the coastal defenses hastily erected after the Nationalist army fled to Taiwan following its defeat in the Chinese Civil War. Drab-looking concrete gun emplacements built on the beach look out across the Taiwan Strait to China, ready to repel a communist invasion that never took place. Built on the shifting sands, they inch slowly toward the sea and will one day be swallowed by the waves.
In stark contrast to these reminders of a military past are brightly colored ATVs that roar between them on their way to Sanzhi's sand dunes, while jetskis dart among the waves just offshore.
For those in search of more relaxed times, Baishawan, a little further north along Highway 2, is home to a small army of Taiwan's most ardent windsurfers and kitesurfers, who make the most of the strong winds that consistently blow offshore. The gold, sandy beach is one of the finest in northern Taiwan and it's a popular spot for families and young couples on daytrips out of Taipei City.
The coastal road continues east along the fringe of green hills to the tiny fishing port of Laomei, where red, blue and green painted boats wait in the dock for nightfall. They are festooned with oversized mercury lamps, which are used to attract fish after sunset. But Laomei's claim to fame is its algal reef at Cape Fuguei, visible at low tide. When a layer of algae forms on rocks, it can die during particularly hot periods to form a substrate for the following year's growth. Over time, the algal remains build up to form substantial structures, as is the case at Laomei.
The bright-green finger-like growths that protrude into the sea support a wide range of marine invertebrate life, which in turn attracts large numbers of hungry seabirds.
Harnessing the Wind
As the coast road winds around Taiwan's northernmost tip, the wind turbines of Shihmen Wind Power Station swing into view in the distance, their orange and white striped towers giving them the appearance of comically oversized children's toys. A spur road leads off Highway 2 and climbs a steep hill where the wind turbines are situated. One of these massive machines is located in a small park on a promontory overlooking the sea; the sound the blades make as they slice though the air is quite unlike any other, giving the place a surreal and intimidating atmosphere. Within the park is a weather monitoring station and an illuminated real-time display showing how much power the turbines are producing at any particular moment.
Hot Spring Heaven
The coast road then swings east to Jinshan, renowned for the healthful waters of its hot-spring hotels. The town is located on the geologically active Datun volcanic range, where a huge earthquake in the 19thcentury shattered the rock strata, allowing water to well up between the fissures. The town now boasts four types of hot spring: neutral carbonate, acidic sulfur, alkaline sulfur and iron-bearing. Those with time to spare can stop for a soak in a hot tub for as little as NT$1,000 for two hours.
A World of Sculpture
Jinshan is also the stopping-off point for a tour of the JuMing Museum, one of northern Taiwan's most important arts centers. Ju Ming, who apprenticed as a woodcarver, shot to fame in Taiwan in the 1970s and found overseas acclaim in the 1980s for his signature blocky sculptures describing the human form.
His most influential work is the Tai Chi Series, hundreds of often monumentally sized bronze sculptures that depict the flowing moves of tai chi, the most widespread form of exercise in China and Taiwan.
He extended this successful sculpture style to images of the armed forces, and, as a result, the gardens of the Ju Ming Museum are overflowing with soldiers, airmen and sailors, some standing in formation, some marching in columns, and yet others engaged in maneuvers. A full-size sculpture of a fighter jet in a hangar and an enormous scaffold ship complete with sailors saluting on deck make the JuMing Museum as exciting for children as it is for art aficionados.
The Museum is open from Tuesday to Sunday and entrance costs NT$250 for adults.
Stone Sentinels
Further east along the coast is the Yehliu Geological Park, an area of stunning natural beauty that draws visitors from all over Asia and beyond. Here, the soft sandstone rocks have been eroded over millions of years to leave bizarrely crafted shapes, the most famous of which is known affectionately as the "Queen's Head."
Entrance to the park costs just NT$50 and a winding path leads through landscaped greenery to suddenly reveal a sprawling moonscape of yellow rocks, many seemingly suspended in mid-air by slender columns. Some are shaped like giant mushrooms, others like ice cream cones and candles. There's usually a long queue of people waiting to have their photo taken with the Queen, one of the most fragile of all the geological curiosities, which, when viewed from the right angle, resembles an elegant female form.
Beneath a towering sandstone cliff, a long boardwalk stretches into the distance, offering the chance to view interesting caves and fissures along a rocky promontory that stretches into the East China Sea.
For those who don't mind getting splashed, there's a marine wildlife center right in the middle of Yehliu's car park. The large, circular, blue building showcases a variety of undersea life, much of it visible from the walk-though tunnels beneath giant tanks. The most popular residents are undoubtedly the playful sea lions and dolphins which entertain visitors with their aerial stunts in the open-air amphitheater.
Flying High
Wanli could well be Taiwan's windiest place and that's good news for those who love to fly. During the summer months, paragliders can be seen in the skies here above Green Bay. Though not the finest spot in Taiwan to enjoy the sport, it is one of the few places where it is tolerated, and the sandy beach below makes for a soft and unobstructed landing – ideal for learners. Some paraglider pilots earn a living on weekends offering tandem flights to tourists, but be warned that safety is somewhat lax and there is no formal regulatory system.
A safer bet is head down to the seashore where the vendors hawk an amazing variety of kites over every conceivable color and shape. Up to 100 kite enthusiasts gather daily on the grassy field adjoining Guosheng Nuclear Power Plant, and a large-scale kite festival is held in Shimen every September or October.
While the north coast officially ends at Keelung City, Highway 2 continues to Yilan County, where even more spectacular scenery awaits. However for most, Keelung signals the end of a long road trip and the beginning of a culinary journey.
>Food for Thought
Keelung is northern Taiwan's busiest port and is as famous for its fresh seafood as it is for its seemingly constant rain. Though it pales in comparison to Taipei in terms of entertainment and cultural riches, its Miaokou Night Market has a deservedly good reputation for seafood snacks.
Miaokou means "temple mouth," and the name stems from the old temple in the center of the market. Dianji Temple was built in 1875 and is dedicated to Kaizhang Shengwang, an important historical figure connected to Zhangzhou, in China's Fujian Province, the ancestral homeland of many of Keelung's oldest families.
Located within walking distance of the port and train station, the night market is small and the streets are narrow, adding to its frenetic atmosphere. For a sit-down meal, you can select from the live fish and crabs in small tanks outside the restaurants, or choose something to nibble as you walk around browsing the stands. Fishball soup and oyster omelets are among the night market's must-tries.
>Getting there
By bus: Take the MRT red line to Danshui Station and then transfer to any bus bound for Jinshan or Keelung. Express buses may not stop at all the points of interest. For the Ju Ming museum, take a taxi from Jinshan.
By car and motorcycle: Take highway 2 from Danshui to Sanzhi and follow the road along the coast.
Northeast Gold Coast (One-day Tour)
Duration:8hours
This tour will cover Nanya Rock Formations, Bitou Cape Recreation Area, Fulong Visitor Center, Sandiao Cape Lighthouse, Tide watching at Beiguan, Wai'ao Visitor Center, Hsuehshan Tunnel.
Fee includes tour bus fees, insurance, lunch/Fulong bento, and tour guide.
Details and Booking:
Jinshan (One-day Tour)
In the Qing Dynasty Jinshan Old Street used to be a busy and commercial street. Today, the old streets are full of many delicious dessert shops that visitor can have something to bring home.
This tour will include Shitoushan Park, Twin Candlestick Islets, Jinshan Old Street, Jinshan Hot Springs.
Details and Booking: